Nagging muscle pain, constant stiffness and recurring knots. Arghhh! Many of us suffer in silence and neglect getting treatment. Those of us who do get treatment automatically think of massage therapy as the only resort. In reality, there are other options that may be more effective like seeing a myotherapist. Myotherapy has been a life-saver for me when it came to musculoskeletal pain.
Move over muscle pain!
Myotherapists work to assess, rehabilitate and treat musculoskeletal injuries and joint restrictions. Myofascial pain is one of the main complaints they treat. Myofascial pain occurs when myofascia (the thick tissue surrounding the muscles) become tight because of physical trauma or inflammation. Ultimately, chronic pain or pesky knots may arise at the myofascial trigger points in the body. A good example is lifting something heavy at work and consequently, experiencing muscle pain for weeks after!
In addition to myofascial restriction, your local myotherapy clinic may also assist with conditions like headaches, neck pain, tennis elbow, muscles spasms, carpel tunnel syndrome, pregnancy related discomfort and sports injury.
Tools of the trade
Myotherapists take a holistic approach. Therefore, they will examine aspects of your lifestyle, fitness and exercise before treating you. Massage therapy is just one tool in a myotherapy clinic's belt. Your myotherapist may also employ a range of other techniques during your treatment.
Some commonly used techniques are: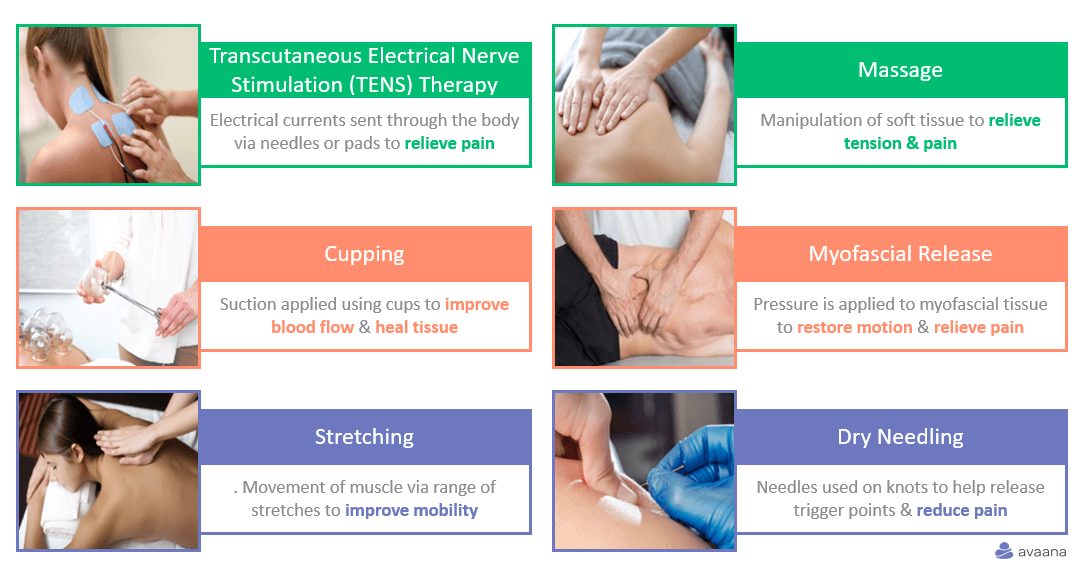 Much and much?
While both massage therapy and myotherapy are great for the treatment of soft tissue aches and pains, they aren't one and the same. The confusion can be forgiven because massage is one of the key tools used in myotherapy. Additionally (to confuse you further!), myotherapists have massage qualifications! But it's important to understand that myotherapy is a unique and effective form of therapy.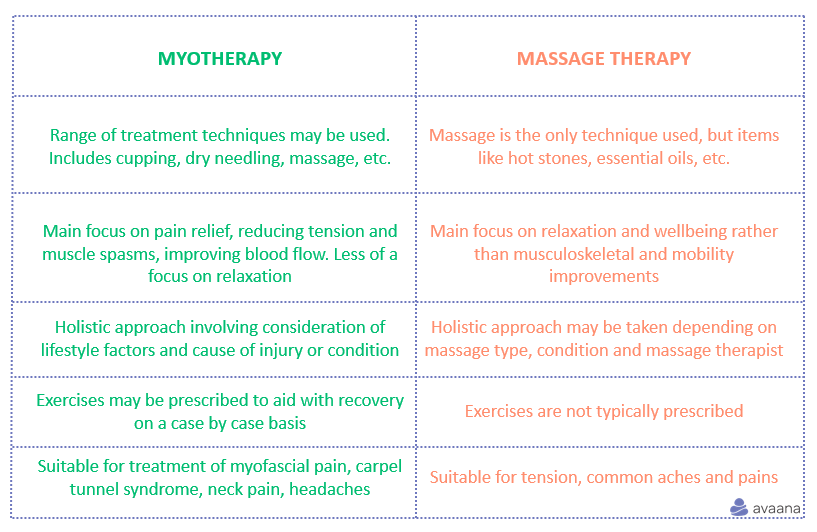 Ready to have that pain dissolve away? Avaana makes it easy for you to book in with a myotherapist near you!