Techniques of Myotherapy
How can Myotherapy help me?
Myotherapy is a more advanced method of treating chronic muscle pain than massage or even remedial massage. It is often the best solution for persistent muscle pain, or recurring knots and soreness

What is Myotherapy?
The word 'Myo' means of the muscle, so this form of therapy treats the myofascia, the thick tissue that surrounds the muscles.
Myofascial pain occurs when the myofascia becomes tight due to physical trauma or inflammation. If chronic pain is making you think "Where's the closest myotherapist near me?" it could be caused by myofascial tightness, which requires more than just regular massage.
Myotherapists work to assess, rehabilitate and treat musculoskeletal injuries and joint restrictions. Your local myotherapy clinic may also assist with conditions like headaches, neck pain, tennis elbow, muscle spasms, Carpel Tunnel Syndrome, pregnancy-related discomfort, and sports injuries.
How does Myotherapy work?
Myotherapy offers a combination of techniques apart from massage, including cupping, myofascial release, dry needling, and more.
Because Myotherapy is a more holistic form of treatment, the treatment of muscular pain begins with an examination of the patient's lifestyle, fitness levels, and exercise routine. Massage is just one of the tools for treatment.
What is the difference between a myotherapist near me and a massage therapist?
While both massage therapy and Myotherapy are great for the treatment of soft tissue aches and pains, they are quite different from each other.
A remedial massage therapist will work on the muscles with their hands to reduce tightness and inflammation and improve blood flow. They are certified in Remedial Massage and are qualified to treat musculoskeletal problems.
Should I try the session for dry needling near me? Will it help my pain?
Before you choose any form of treatment, you should know that the best person to decide will be your myotherapist. Your first session will involve a discussion about your pain, health, and fitness conditions, any existing medical problems, and maybe even a physical examination. The appropriate course of treatment will be decided after that.
There's a myotherapist near me and a remedial massage expert too. Which one should I go to?
In Australia, a myotherapist must have at least a Bachelor's Degree, and will be certified in Remedial Massage before going on to complete a degree in Myotherapy. This involves many more levels of certification, in addition to training in musculoskeletal alignment, physical rehabilitation, and corrective Myotherapy exercise, and other treatments like dry needling and cupping.
For the customer, a myotherapist offers the benefits of advanced education and training, as well as a range of treatment options.
In addition, while massage aims to increase a sense of relaxation and wellbeing through better circulation, Myotherapy is targeted at pain management, increasing blood flow for better mobility, and to release tightness in muscles.
If you're thinking "Will going to a myotherapist near me be a one-time treatment or will it help with long-term pain?" here's what you should know. A myotherapist will create a series of exercises or routines that one has to do at home, in order to maintain and increase healing. Massage therapists, while they may offer advice on small changes to one's routine, cannot prescribe any home treatments or exercises. This means that while you may have to go to multiple Myotherapy sessions, you can carry on working on your trouble spots at home too.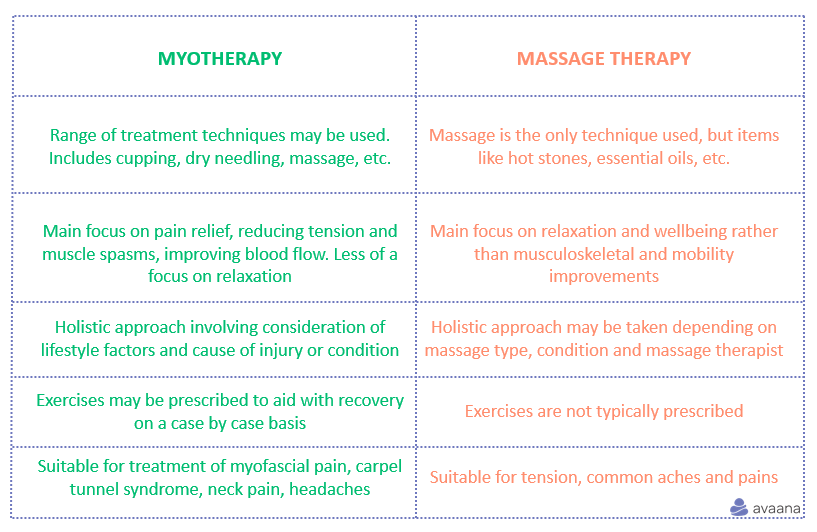 What is the difference between a myotherapist and a massage therapist?
While myotherapy is an effective treatment against the pain caused by the muscles, one must understand that the myofascia are not always the source or the cause of the pain – it may be from originating in the bone, joints, or nerves. In these cases, a full diagnosis is needed before the correct course of treatment can be decided upon.
The large network of myofascia covers so much of the body that the cause of the pain may be in a different part of the body than the sensation of it. For example, a person suffering from wrist pain may actually have a misaligned shoulder. The diagnosis and rehabilitation of the musculoskeletal structure is the first step towards treating the problem. A myotherapist who is licensed to diagnose will be able to identify this.
After that, through a combination of treatment techniques, the myotherapist will work on reducing pain, increasing mobility, and retraining muscles to correctly balance the weight of the body and move in the right way.
If you're suffering from lifestyle-related conditions like back pain, neck, and shoulder pain, tennis elbow or Carpal Tunnel Syndrome, or some sports injuries, Myotherapy will help. It also helps with alignment and correction of the spine and joints, which can be helpful for those with chronic back pain, migraines caused by incorrect posture, repetitive stress injuries, or certain types of joint pain like shoulder impingement syndrome.
For those with conditions like arthritis, fibromyalgia, age-related muscle or joint deterioration, myotherapy can help with both mobility and pain management.