Many of us make new years resolutions to get fit, but fall off the bandwagon in the first few weeks of January! Often we give up because we don't see the results we want, as fast as we want. Sometimes this is because we are being unrealistic, but other times it's because we are doing the wrong type of work out for our bodies. That's why it's so important to know which type of exercises work for our body shape, physical ability and our 2018 fitness goals! Some of us are more suited to gentle low impact exercises, while others are ready to go with fast-paced high impact exercises.
Break a sweat with high impact exercises
High impact exercise is an excellent way to get fit and also has a whole range of health benefits. Getting your heart rate up improves bone density and strengthens your heart and lungs. Keeping fit and healthy can also improve balance and coordination as well as help to prevent obesity, diabetes and some cancers.
High impact exercises involve more direct force on the body. Aside from running and contact sports (like my beloved footy!) – there are loads of ways to get your blood pumping:
Burpees
Jogging on the spot
Squat jumps
Froggy jumps
While high impact exercise is a great way to get fit and burn those extra calories, it might not be the right approach for you. This is where getting advice from a personal trainer or exercise physiologist can be beneficial. For example, it may not be best for you to try high impact activities if you have preexisting joint pain or injuries. Similarly, if you are new to exercise, your PT may feel it's better to ease you into working out.
The down-low on low impact exercises
Low impact exercise is less intense and places a lot less stress on the body. But that doesn't mean that the health benefits aren't there! Low impact exercise is excellent for the elderly and pre and post natal women. Low impact activities like swimming are also great for those who are injured, in pain or in a physical rehabilitation program.
Think of it like this: low impact exercises generally mean that one foot is always in contact with the ground (or water)! Whether you're walking or simply going for a bike ride, low impact is a great starting point for your fitness journey. Other low impact exercises include certain forms of yoga, pilates, climbing stairs and using the elliptical trainer.
Another thing to keep in mind is that low impact can be high intensity. Impact is the force placed on your body, while intensity is the level of difficulty or focus. So you can up your workout without running a marathon. You could simply power walk, dance or do walking lunges with some hand weights.
Which one is for me?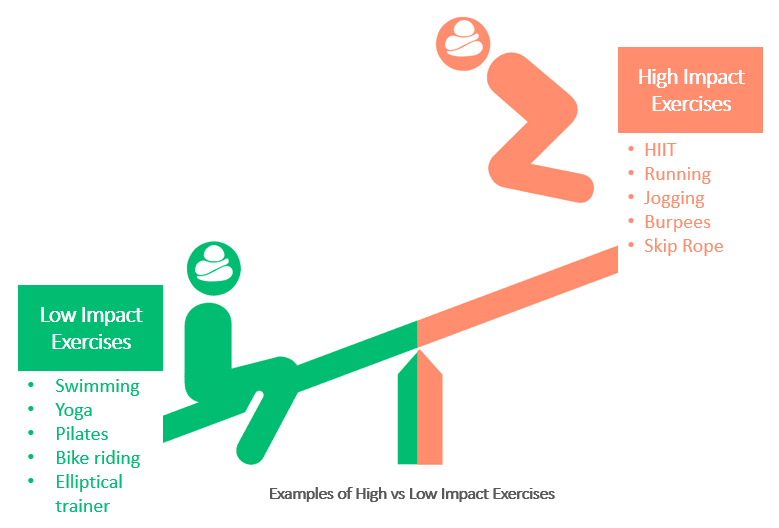 Low impact workouts are perfect for relieving stress and strengthening your core. On the other hand, high impact exercises promote weight loss and cardiovascular health. Typically, your PT, exercise physiologist or physiotherapist will assess your body's ability and your personal goals before determining what's best for you. Often, you will find that your fitness plan includes a mixture of both.
Ready to tick off your 2018 fitness goals? Book in with a PT, exercise physiologist or physiotherapist and get the tailored health and fitness advice for you! Incorporating both low and high impact exercises in your routine allows you to get a well-rounded workout. That way you're targeting all your muscles and allowing yourself some recovery time too.