When my mum was pregnant with me she was told not to eat fish because her child would end up with webbed fingers! While there's nothing wrong with my fingers, I am also pretty sure it wasn't because she didn't eat fish. Nowadays, navigating what fish you can eat or should avoid can be tricky, but it's not because one type of fish can give you webbed body parts!
Rather, the advice around pregnancy diet and food safety is a result of findings backed by extensive (and sometimes continuing) research as well as technological advancements. Put simply, our knowledge base on what should or shouldn't eat while pregnant has evolved.
It's therefore important for people trying to conceive and new mums-to-be to be on top of this knowledge.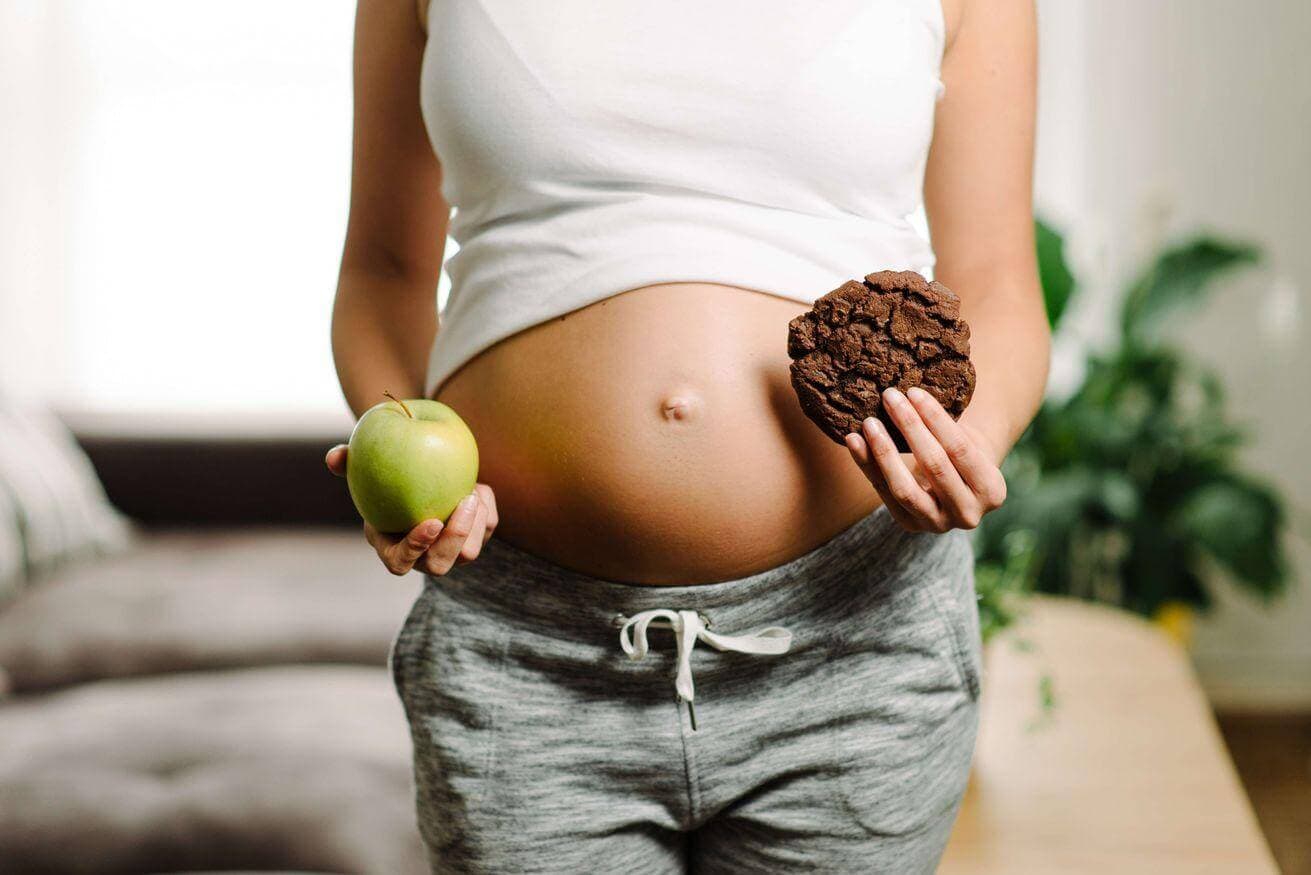 Lifestyle choices for bub before pregnancy
If you're trying to conceive, or about to start trying, it's important to know there are some things you can start – or stop – doing right now. Before examining your diet and nutritional intake, it's worth looking at existing lifestyle choices. For example, alcohol consumption, smoking and drug use can all be detrimental to your chances of conceiving and carrying a healthy baby to term. In fact, according to the National Health and Medical Research Council, maternal alcohol consumption can harm a developing fetus and a breastfeeding newborn. Furthermore, babies born to mothers who smoke have a higher risk of SIDS, weaker lungs and a lower birth weight. Other complications can include ectopic pregnancies, fetal death, spontaneous abortions, premature labour and problems with the placenta.
Getting your body baby ready
Another pre-conception consideration is preparing your body for pregnancy from a nutrient, vitamin and mineral intake perspective. It's recommended that you start taking a pregnancy supplement and multivitamin at least one month prior to conception. This is because it can take some time to build up the nutrient levels your body needs to support not only you, but your growing baby. Prenatal supplements should include minerals and vitamins critical to bub's development. These include iron, iodine, folic acid, zinc, vitamin D and vitamin C.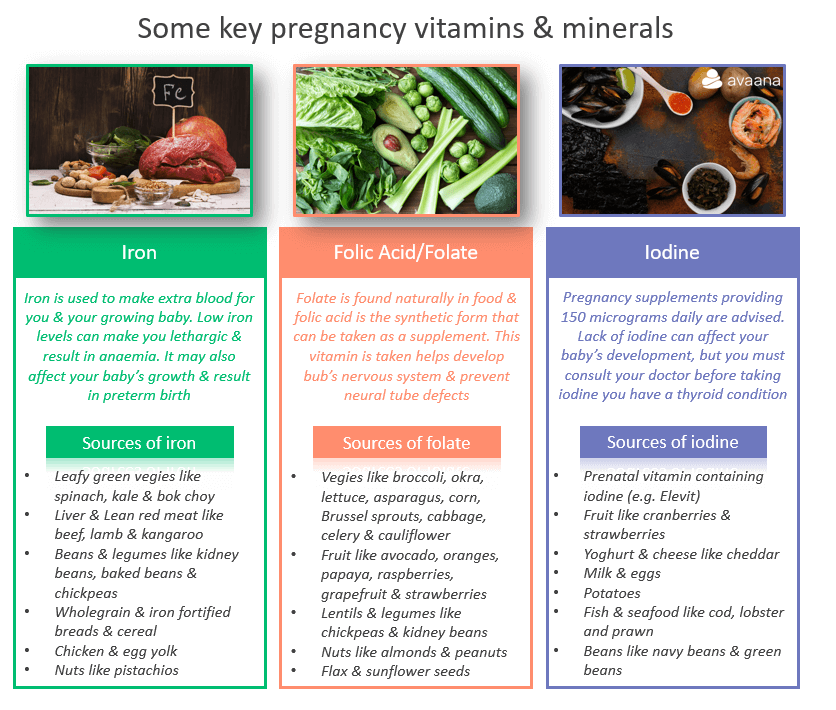 Pre-conception dietary considerations are also important. For example, a recent US study found that women were more likely to miscarry if they (and their partners) consumed more than 2 caffeinated beverages daily in the weeks leading up to conception. Decaffeinated coffee and tea is not advised as an alternative. If you are considering switching your coffee for tea, you can have two weak black teas, two green teas or unlimited herbal teas per day.
Pregnant? Congrats! Now it's time to really start managing what you eat
Congratulations mumma to be! Whether you've been battling for some time trying to get pregnant, or you've just received some unexpected good news, you'll be eagerly searching what you should and shouldn't do! Don't worry, we're here to try to help you wrap your head around what you should eat, drink and avoid. Firstly, if you haven't been taking prenatal vitamins, minerals or supplements, now is the time. If you're unsure what you should be taken, we recommend you consult your GP, gynecologist or fertility specialist for advice. You should also ask them whether any pre-existing conditions that you have, like thyroid conditions, will effect what you take.
Listeria
The next thing to understand is that you need to crack down on what you eat and drink (if you haven't already). One of the biggest considerations is listeria. It is a foodborne illness, which can be can be found in soil, dust, water, processed foods, raw meat and faeces of animals such as cats. It can survive in temperatures as low as 0.5 degrees and is contracted by consuming contaminated food. Perhaps you recall the recent deadly outbreak of listeria from contaminated rockmelon?
While listeria is a relatively rare illness, some people are more at risk than others. Pregnant women, developing foetuses/babies and newborns fall into this high risk category. In fact, incidences of listeria are 13 times higher in pregnant women than the general population. If untreated the severity of the situation could lead to foetal loss, pre-term labour and neonatal sepsis. Consequently, some high risk foods you should avoid eating are:
pre-packed cold salads including coleslaw and fresh fruit salad
pre-cut fruit
processed meats such as ham and salami. Do not eat these unless they have been cooked to at least 75 degrees Celsius and even then, you should consume them immediately. This also applies to any deli cold meats such as chicken, turkey, beef and pork
raw seafood, store bought sushi, ready-to-eat peeled prawns or any refrigerated patés or spreads
smoked seafood and fish
unpasteurised milk or milk products
soft cheeses such as brie, camembert, ricotta, or blue-vein (unless cooked and eaten whilst hot)
raw mushrooms and sprouts including alfalfa sprouts, broccoli sprouts, onion sprouts, sunflower sprouts, clover sprouts, radish sprouts, snowpea sprouts, mung beans and soybean sprouts
raw eggs including when added to home-made mayonnaise, aioli, chocolate mousse, cake and pancake batter
ice creams from soft serve machines and fried ice cream
Balanced pregnancy diet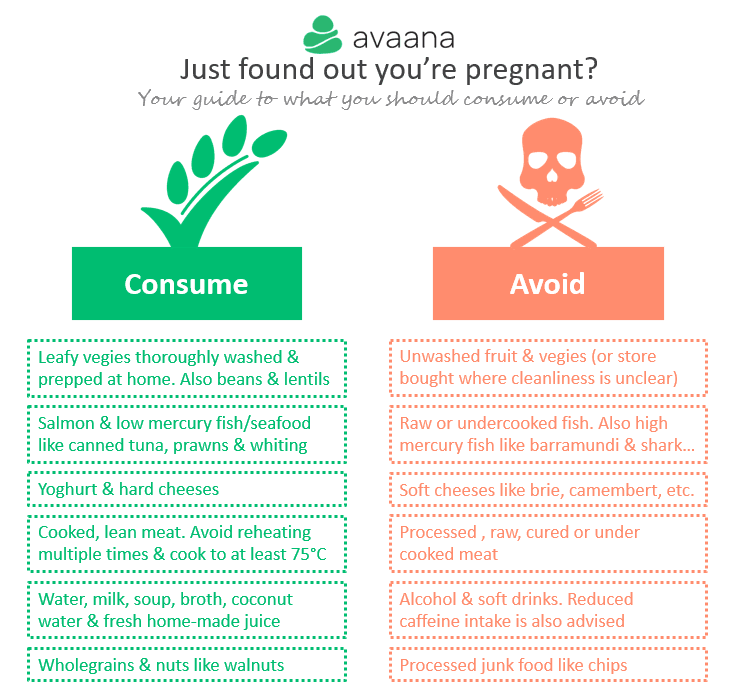 A balanced, healthy diet pre-conception and during pregnancy is very important. A mixed pregnancy diet of leafy greens. salmon, dairy (like yoghurt, skim milk and hard cheeses), cooked lean meat, nuts and wholegrains is recommended. Also, if downing around 2.5 litres of water a day doesn't sound like your cup of tea – well you can switch it up with tea…literally. Those 10 cups of fluid can be achieved by drinking water, tea (following the guidelines above), milk, soup, broth or homemade juice.
A diet of junk food or fast food, including the consumption of soft drinks and excessive caffeine, is detrimental to your developing baby. Also, as covered in the listeria section, you should avoid a diet that includes high risk foods like raw and processed meat, soft cheeses and fruit and vegetables cut or prepared outside of your home.
Here fishy, fishy, fishy…
Fish and seafood are a great source of protein, iodine and minerals. Other sources of protein suitable for pregnant women include lean red meat, peanut butter, chicken, egg, beans, lentils, tofu and soy.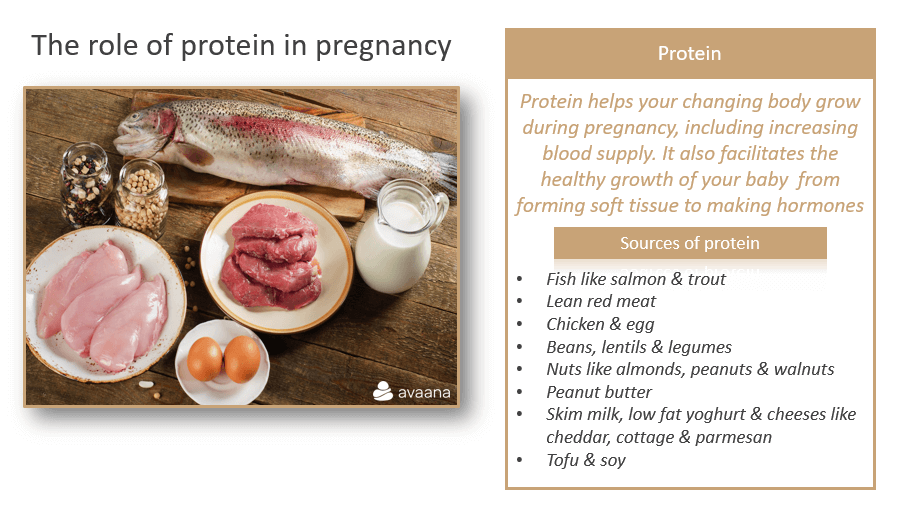 When cooked properly most fish and seafood are safe for pregnant women. According the to NSW Food Authority, fish are low in saturated fats and contain omega-3 fatty acids which are crucial for the development of your baby's central nervous system before and after birth. However, some fish should not be consumed as part of your pregnancy diet. These are fish with high mercury levels. Mercury can be passed from you to your foetus and can affect bub's developing nervous system.
Some types of fish to avoid include swordfish, barramundi, southern bluefin tuna and shark. Recommended fish types for pregnant and breastfeeding women include salmon, sardines, canned tuna and shellfish such as prawns, lobsters and oysters. Another option for still receiving the nutritional benefits of fish is taking fish oil dietary supplements that are processed to remove mercury and any other contaminants that could harm your baby in the womb.
Still have questions about what to eat and what to avoid?
While this post aims to help you understand the sort of things that are good for you and your little muchkin-to-be, we don't intend for our content to substitute professional advice. If you have any questions or concerns about your pregnancy diet, prenatal vitamins, other supplements, or pregnancy generally, please consult with your nutritionist or dietitician, GP, gynecologist or fertility specialist.
Also, if you want a more detailed pregnancy diet meal plan that can be adapted from trimester to trimester, you might benefit from seeing a dietitian or nutritionist.
Congrats again on your great news! If you're about to start trying, we're sprinkling baby dust your way!
Please share this post with your mum's group, friends trying to conceive, or anyone who has just found out they're going to be mummies!
Alex is a journalism graduate who enjoys writing about anything and everything. She has a passion for fitness, travel and finding that perfect aesthetic.