Our feet do a lot for us. They help us move from point A to point B, but they also enable us to dance, run and show off on trend kicks! So it comes as no surprise that when they're sore and in pain we feel pretty hopeless. Hobbling around all day and wincing in pain isn't a good look! One of the culprits that makes us suffer so much is heel pain, of which plantar fasciitis is the most common. The good news is that this condition is reversible with early treatment.
Heel and toe, heel and toe
When you experience heel pain, it's crucial that you see a podiatrist as soon as possible. After all, they are responsible for diagnosing, treating and preventing conditions related to our feet and lower limbs.
There's a common misconception that only the elderly need to see a podiatrist. Plantar fasciitis is a good example of when this may not be the case. In fact, plantar fasciitis affects one in ten people. About 10% of those affected sustain the condition from running. So this foot condition definitely isn't just one for the elderly!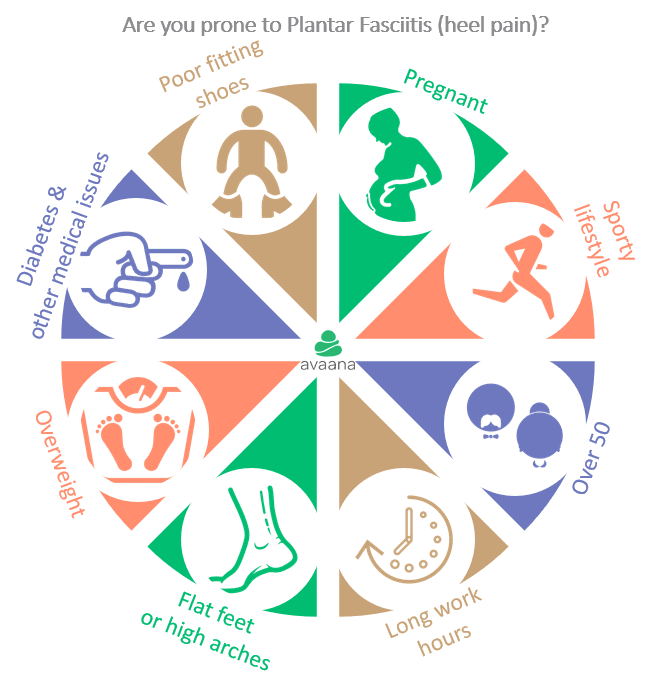 podiatry, podiatrist, pregnant, diabetes, over 50, elderly, flat foot, high arches, flat feet, athlete, wellbeing, health, Avaana" width="556″ height="581″>
Plantar what?
Heel pain of the plantar fasciitis variety occurs when there is severe irritation and inflammation of the plantar fascia. The plantar fascia is the piece of thick tissue that runs along the bottom of our feet. It's essentially the ligament that creates the arch in our feet by connecting our toes to our heel bone.
The main indicator of plantar fasciitis is pain. This pain is generally under the heel and can be either a dull ache or a sharp stabbing sensation. The pain is often more intense after intense activity, prolonged standing or sitting and especially during those first few steps in the morning.
Our heels may also be a little swollen and the bottoms of our feet achy and burning.
Help stop the hurting
Plantar fasciitis is treated and diagnosed by podiatrists. While treatment may differ from patient to patient, some heel pain and foot mobility treatments include pain relief medicine, steroidal anti-inflammatories, foot exercises, rest and night splints in conjunction with orthotics. Some people see their physiotherapist first as they can perform foot assessments and biomechanical correction. However, your physiotherapist may recommend you see a podiatrist if you haven't already should other treatment like orthotics be required.
If you're experiencing heel pain, book a podiatry appointment with Avaana to help heal your heels!