The arrival of the COVID pandemic on the shores of Australia signalled difficult times ahead for the alternative wellness or complementary medicine industry. As Aussies have followed social distancing norms, many wellness therapies have been moved to second priority. However, there are some treatments like physiotherapy that cannot afford to be delayed. Luckily those undergoing physiotherapy need not be affected as it is possible to continue physiotherapy at home.
What is physiotherapy at home?
Physiotherapy studies muscles and their movement and targets the root causes of physical pain. For a physiotherapist to diagnose and treat a client, it is usually required to meet face-to-face. A physiotherapist must evaluate many factors including the range of motion, flexibility of joints and other health conditions of the client and only then can guide them through the exercises to strengthen and heal.
Conventional physiotherapy is usually carried out by trained therapists in brick-and-mortar clinics. Here you are required to visit the clinic a few times a week to avail of treatment. Physiotherapy at home, on the other hand, involves the clinic coming home to you. Mobile physiotherapists visit your home offering consultation and treatment for a wide range of debilitating conditions.
Considering movement is a concern for all those seeking physiotherapy, home visits are an ideal option, especially for those with grave injuries or limited movement. But in the last few months, there has been news of patients as well as practitioners turning to online physio at home given the unprecedented scale of the COVID pandemic.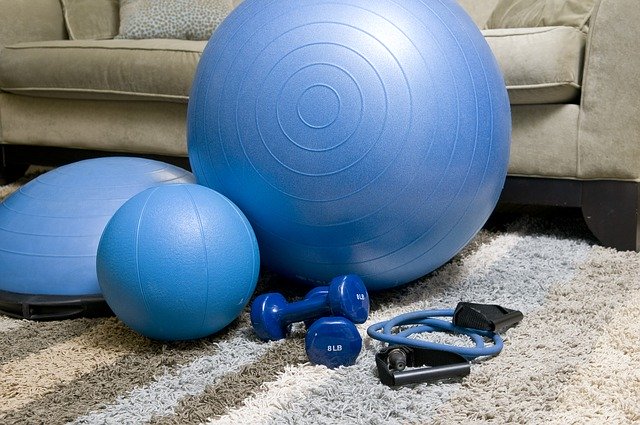 Is physiotherapy at home the right choice for me?
You should consider a physio at home if you have suffered an injury or are dealing with chronic pain that affects your quality of life. Physiotherapy is usually doctor-mandated after surgery like hip replacement or after serious medical events like a stroke.
Physiotherapy is also a viable long-term option for those who suffer from lifestyle-related pains like carpal tunnel syndrome or back pain triggered by a desk job or manual labour. Instead of relying on regular medication, physiotherapy will help stretch, strengthen and realign the body for lasting relief.
Is physiotherapy at home just as effective?
It is just as effective, if not better, than traditional physiotherapy considering the numerous benefits that a physio at home has to offer.
Convenience
For anyone with moderate to severe movement problems, physiotherapy at home is easier, safer and far more convenient. Even for those with minor issues, at-home visits require less time and effort causing fewer disruptions to your daily schedules and life.
Personal safety
Those who have recently undergone surgery or medical treatments like chemotherapy may have a compromised immune system. Having the mobile therapist visit at home can minimize the risk of infection for such clients. In recent times, the COVID pandemic has made safety a buzzword. With certain strict measures observed, it may be safer for someone to receive physio at home instead of visiting a clinic.
Reduced financial burden
On average, the cost of a mobile therapist works out cheaper than a traditional physio. This is down to several factors such as your own reduced travel cost. A mobile therapist doesn't have to bear the costs of running a clinic and they usually transfer these benefits to the patient in the form of reduced fees.
Assessment
Assessment is the first and arguably the most crucial step in physiotherapy. It determines the subsequent treatment that will be considered for your specific condition. A mobile therapist has a higher chance of correct assessment because they can carefully evaluate all lifestyle and home factors that might be impeding or causing your mobility issues.
Disability considerations
While Australia is a highly inclusive and progressive society that has become increasingly disabled-friendly over the decades, there are still gaps within the system. Not all buildings and clinics can afford to provide disability assistance. Since those requiring physiotherapy may be temporarily or permanently disabled, home visits go a long way in alleviating unnecessary distress and optimizing treatment.
When should I seek physiotherapy at home?
Physiotherapy at home may be useful in treating the following medical conditions:
Neck, knee, and back pain that is a result of muscular and skeletal problems
General fatigue, aches, swelling, pain, sprains, stiffness, and loss of muscle strength
Any issues related to bones, muscles, ligaments, and joints such as arthritis
Broken bones following an accident
Loss of mobility arising out of trauma to the spinal cord,
Reduced mobility due to conditions like Parkinson's or Multiple Sclerosis
Conditions affecting the lungs such as asthma
Pelvic issues that can affect the bowel or the bladder
Disabilities arising due to heart conditions
Do keep in mind that effective physiotherapy can help deal with many pain and mobility troubles as well as help prevent mobility issues in the future.
How can I book physiotherapy at home?
If you have been advised by your doctor to attend physiotherapy sessions, discuss the option for physiotherapy at home. In some cases, you may have to go to the clinic for initial sessions and then move to an at-home routine.
If you are looking for a first-time consultation with a physiotherapist for at-home sessions, Avaana can help you find physiotherapists near you.
Rules for physio at home
You may not have access to all the equipment and aids that are available in a clinic. You will have to explain your condition in detail to your therapist so that they can offer the best advice about using what you have at home.
The first session is always critical when it comes to both the therapist and the client understanding each other. You will have to provide your medical history and explain your pain or discomfort levels in detail. The physio may ask you to perform certain stretches or moves to gauge your abilities. Allow the therapist to assess your condition and provide all information with absolute honesty and clarity. Your rehabilitation program will be designed accordingly.
Whether you go to a clinic or do physio at home, this is a process and not a quick fix. Do give it time to work and follow the instructions and frequency recommended by your therapist.