How can a Podiatry clinic help me?
With all the walking, running, standing and dancing we do, we really should see a podiatrist to ensure our feet are in top condition. But in spite of how much we rely on our feet, we often neglect them the most too.
Podiatry focuses on the prevention, diagnosis, and treatment of medical conditions associated with the feet and lower legs. A podiatry clinic can assess and treat conditions associated with feet such as:
Biomechanics of the feet — problems arising from feet and lower legs
Knee and shin pain
Preventive care for people with arthritis and diabetes
Nail surgery for people with ingrown toenails
Differences in the lengths of the legs
Routine care for corns, problem nails, and calluses
Should I see a podiatrist near me?
Yes, if you're wondering about this, you probably should. Podiatry is beneficial for people of all ages and all walks of life. They may give you at-home strategies that help prevent and improve any ongoing issues. Treatment performed by podiatric physicians aims at helping ease and eliminate pain in the problem area.
It's recommended that you see a podiatrist annually and more if you have high-risk conditions like hypertension, diabetes, cancer, obesity, or lower limb arthritis.
When should I see a foot doctor near me?
You should head straight to the podiatry clinic if you notice any of these changes in your feet, ankles or lower limbs:
Foot odour
Ingrown or discoloured toenails
Injury or pain
Calluses, corns or skin rashes
Ulcers or foot bumps and lumps
Redness, swelling, or colour change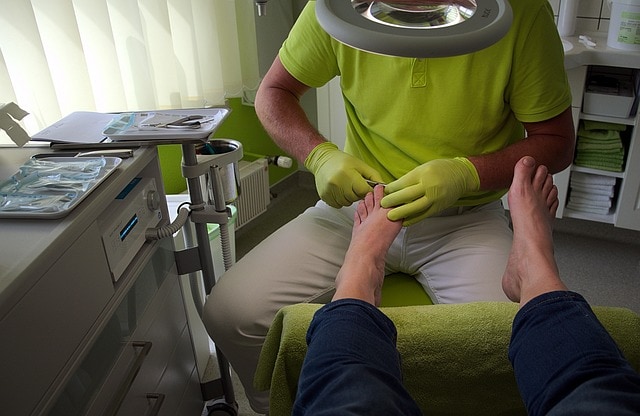 What does the chiropodist near me do?
A chiropodist is the same as a podiatrist, and has a wide range of duties.
Calluses and corns: A podiatrist helps reduce pain and discomfort associated with corns. They will carry out an extensive assessment of your feet to understand the cause of any callus development.
Custom footwear: Podiatric physicians can make customised insoles (or orthotics) that prevent pain by supporting your arches and redistributing your pressure. The insoles reduce the force exerted on the feet and enable feet to work efficiently and in a stable way.
Minor surgeries: Podiatrists can perform small surgeries on issues like chronic ingrown toenails. Some podiatrists undertake rigorous post-graduate training and education in reconstructive foot and ankle surgery to become podiatric surgeons.
I have diabetes. Should I visit a podiatrist near me?
If not contained, feet problems in people with diabetes can lead to amputations. Regular visits to a podiatrist helps people with diabetes to avoid developing feet problems and control existing conditions.
What are you waiting for?
There is a ton of knowledge that you can acquire on podiatry. When seeking podiatry services, ensure that you settle for a well-qualified podiatric physician to offer you quality services. There are numerous qualified podiatrists in Australia that you can engage. During your appointment, a podiatrist will examine your feet and use specific tools and devices to help treat and diagnose any foot and lower limb conditions. Most podiatry consultations will take place at a private practice with home visits available in some circumstances such as for the elderly in nursing homes.
Go ahead and book your first visit if you have never visited a podiatrist on Avaana. For people who do it constantly, book your next session to ensure that your feet are well maintained and in good condition. Make your podiatrist your best friend and see how your life will change for the better!