Physiotherapy is often associated with sports medicine or the alleviation of pain. While this assumption is correct, there are SO many other reasons people consult physiotherapists. For example, your grandma may have limited mobility or a friend may need rehabilitation after surgery. Similarly, some physiotherapists can assist people with cardiorespiratory conditions such as asthma, chronic lung disease and hypertension.
Let's get physio, physio
Practicing physiotherapists have relevant tertiary qualifications. They are also registered with the Physiotherapy Board of Australia. Physios may help ease pain or repair function for people from all walks of life. Some examples of conditions physiotherapists can assist with are below: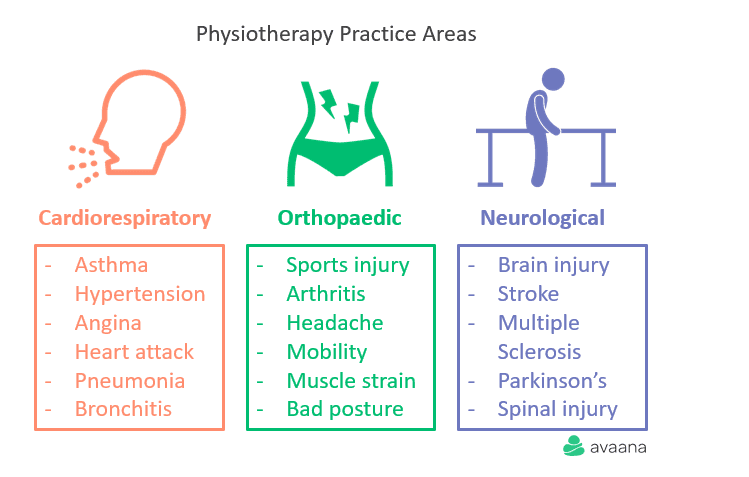 Physiotherapists are able to help you improve strength, flexibility, range of motion and endurance. They can also help with reducing stiffness, improving gait and training in the use of mobility aids to name a few.
In fact, physios employ a holistic approach in diagnosing and treating patients to ensure they receive the best care possible. Treatment approaches vary from patient to patient and often involve a combination of techniques to achieve the best result. Some common techniques used are joint manipulation, muscle stretching, massage, taping (to prevent injury), acupuncture and dry needling (to assist with muscle function) and neurodynamics.
One size doesn't fit all
While physiotherapists see many patients with similar problems, no two patients are alike. This means physios adopt a customised assessment and treatment approach to each and every patient and condition. Additionally, a standard consultation can vary depending on the scope of your physiotherapist's practice specialisation. Having said that, a 'typical' session may include:

In Step 3, physiotherapists take into consideration information like a patient's family history, daily activities, type of work and preexisting illnesses or conditions. The treatment plan may include exercises and the use of physical aids as required. Physical aids are equipment that assists people with injuries and disabilities by improving their functioning.
Whether you need a physiotherapist for a sports injury, pain from an accident that happened many years ago or bad posture, Avaana has you covered. Book an appointment with a physio near you now!