These Frequently Asked Questions contain general information only and do not take into account your personal health, fitness or wellbeing circumstances, needs or objectives. Information about a therapy, service, product or treatment does not imply endorsement by Avaana and is not intended to replace advice from your healthcare, fitness or wellbeing professional. All site users should seek advice from a qualified healthcare professional for a diagnosis and answers to their health, fitness and wellbeing questions.
1. What happens at my first acupuncture consult in Sydney?
Acupuncturists in Sydney will typically begin the first consult by asking you to fill out a questionnaire or to answer a series of questions. This usually takes place in a relaxed manner with the aim of getting to know you better in terms of your previous health and wellbeing history, what's brought you in for your first consult, lifestyle factors, your diet and sleeping patterns, to name a few. This information can be used to tailor your custom treatment plan, which might involve other traditional Chinese medicine (TCM) techniques such as cupping or massage.
Some TCM practitioners will also perform a physical examination. Two major diagnostic tools used by acupuncturists includes taking your pulse and examining your tongue.
It's not uncommon for the first consult with your Sydney acupuncturist to be longer than subsequent appointments.
2. Will I experience any side effects from having acupuncture?
Many people who have acupuncture report that it's a relaxing experience, with some people even falling asleep during treatment. Others have noted side effects like a mild headache or muscle tenderness after treatment or a transient sting at the time the needle is inserted into the body. These side effects are self-correcting, so are indicative of your treatment working and should disappear within a couple of days.
It's worth noting that if you experience no side effects, it does not mean your treatment was not successful.
If you are concerned about any side effects experienced, please contact your acupuncturist or healthcare provider immediately. You should also feel comfortable to raise any concerns prior to, or during, your consultation.
3. Does acupuncture work for everyone?
While it's difficult to answer that question with a resounding "yes" or "no" for everyone, many people have had tried acupuncture over the last 2,500 years and it is an established practice with a large, growing following.
In the Western world for example, many fertility and gynaecology practices endorse the use of acupuncture as a complementary therapy to help with fertility, conception and even induction purposes. Similarly, scientific research has been conducted supporting the effectiveness of acupuncture in treating, or managing, a number of conditions including:
headaches
migraines
period pain
pregnancy-related pain
chronic pain
nausea and more…
4. How long does an acupuncture session in Sydney go for?
Different acupuncturists and TCM clinics around Sydney will offer different lengths of service. These will typically range from 30-90 minutes, so you can book into an appointment slot that suits you best. It's not uncommon for the first consultation to take longer than subsequent ones.
5. Will my acupuncture treatment hurt?
Some people feel no pain or sensation whatsoever, others may feel a small sting or sensation when the acupuncture needles are inserted. You may find that you are more aware or feel a transient sting if it's your first few acupuncture sessions compared to if you're a regular.
Acupuncture needles are not the same as other needles (or injections) you might have had in the past like when you have blood drawn or receive a vaccination. Below is an image of an acupuncture needle being used on one of Avaana's team members. Notice just how small the acupuncture needle is! Most acupuncture needles are made of stainless steel and range in length from 8 mm to 7 cm!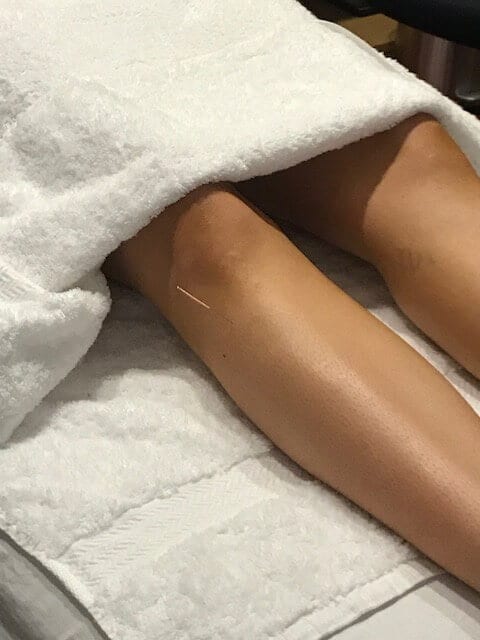 6. Why should I try acupuncture in Sydney?
Different people try acupuncture, or see a Sydney-based acupuncturist regularly, for different reasons.
Do any of the following reasons appeal to you?
Acupuncture is a traditional, natural form of medicine that doesn't rely on pharmaceuticals. This is particularly enticing if you don't like taking medication, are already taking a lot of medication, or have found that the pharmaceuticals you've tried haven't worked
Acupuncture effectively treats several physical, emotional and mental health conditions. It has been used for over 2500 years in the Eastern world, so there are many people who can provide anecdotal evidence as to the effectiveness
Scientific research is ongoing, but currently supports acupuncture's effectiveness in managing and treating a number of conditions including infertility, period pains and irregularity, headaches, migraines and chronic pain
When all your Western medical options have been exhausted, trying something different like alternative medicine might be enticing to you
7. Can acupuncture be used alongside Western medicine?
Yes! When acupuncture is regularly used alongside Western medicine, it is referred to as 'complementary medicine'. A good example is gynaecologists and obstetricians in Sydney supporting the use of acupuncture to help with period pain, irregular periods, fertility, IVF or conception issues and to induce labour.
Acupuncture is also used as 'alternative medicine' – so, instead of Western medicine. If you are commencing acupuncture in conjunction with current treatments, or instead of Western medicine, we advise you first discuss this with your healthcare practitioner.
8. Are all Sydney-based acupuncturists registered practitioners?
Yes! Since July 2012, all Australian Chinese medicine practitioners must be registered under the national registration and accreditation scheme with the Chinese Medicine Board of Australia. This includes acupuncturists, Chinese herbal medicine practitioners and Chinese herbal dispensers.
9. Does Medicare or private health insurance cover acupuncture?
Medicare doesn't cover acupuncture unless it's part of your doctor's consultation.
Depending on the level and type of cover you have through your private health insurance, acupuncture may be covered. We recommend that you contact your private health insurer directly to determine whether your policy covers acupuncture.
10. How does Acupuncture work?
If you're worried about the needles, don't be! Some clients feel so comfortable and relaxed during their session that they fall asleep, while others report a mild tingling sensation as the energy is unblocked and begins to flow in the body. The best way to enjoy it is to try a session of acupuncture Sydney style, and see how you feel.
At any acupuncture Sydney clinic, the therapists use needles as fine as a strand of hair so you barely feel it. The rush of healing endorphins in your body will make you feel warm and sleepy.
If you're thinking "How do I begin looking for an acupuncturist near me?", Avaana has you covered.
10. Does Acupuncture hurt?
Acupuncture is a part of the Traditional Chinese Medicine (TCM) System that believes in the flow of life energy in the body. If the energy can flow unobstructed, the body is healthy. But if it is blocked by stress, injury, or imbalances in the body, it can have a variety of effects.
Ask any acupuncture Sydney specialist and you'll get the same answer: Energy flows along lines or meridians in the body and is strongest at specific points. When you puncture the skin at these points, it causes an immediate awakening of the body's self-healing mechanism and unblocks energy.
Discover how people are using acupuncture to lose weight.
Learn about the difference between dry needling and acupuncturel.
11. Is Acupuncture popular in Australia?
Acupuncture originated over 5000 years ago and has become popular globally and in Australia. When it comes to acupuncture Sydney has a big following and with an increasing number of clinics popping up every year, it's only going to become more visible.
If you're looking for acupuncture Sydney has a lot of options for treating chronic conditions or to take care of your general wellbeing.
11. What are the benefits of Acupuncture?
You can book a session at any acupuncture Sydney clinic for managing pain or reducing symptoms in the following conditions:
Muscular or joint pain due to arthritis or lifestyle conditions like stiff or frozen shoulders
Respiratory conditions
Stress-related headaches or insomnia
Problems with stomach, liver, gall bladder
Anxiety, stress, depression
Skin conditions like psoriasis or eczema
 For many clients a visit to an acupuncture Sydney clinic is like going to a spa – they book a session to relax and feel rejuvenated. You can try acupuncture for medical conditions but it is also good to release stress in healthy people. When it originated, acupuncture was used largely for diagnosing and treating illnesses but now all acupuncture Sydney centres offer treatment for wellbeing.
When it comes to acupuncture Sydney residents report many stories of success, but medical research has not yet accepted it. It may be an allied medicine but as far as regulations for acupuncture Sydney and the rest of Australia go, the rules are very specific and must be adhered to.
Before you book
If you're booking an appointment for acupuncture Sydney therapists recommend the following:
Avoid alcohol and drugs 12 hours before your session
Wear comfortable clothing
Eat a light nourishing meal or snack before you go but do not fill up on greasy or heavy food
Avoid driving to your acupuncture Sydney clinic because you may be light-headed or drowsy after it is over,